World News
Sudan crisis: Mediators over a barrel in mission to end fighting
By BBC Africa
With the Sudanese capital, Khartoum, transformed from a tranquil city to a war zone, Saudi Arabia and the US have called the warring parties to Jeddah to seek agreement on a ceasefire. But as Sudan expert Alex de Waal says, it will just be a short-term, emergency step.
There is a dilemma for mediators: whatever decision they take on the format and agenda for emergency talks will determine the path of peace-making in Sudan through to its conclusion.
To silence the guns, the American and Saudi diplomats will deal only with the rival generals who have each sent a three-person negotiating team to Jeddah.
The agenda is a humanitarian ceasefire, a monitoring mechanism and corridors for aid. Neither side wants to open negotiations towards a political agreement.
The civilian parties and neighbourhood resistance committees, whose non-violent protests brought down the authoritarian regime of long-time leader Omar al-Bashir four years ago, will be onlookers.
It will not be easy to get the two generals to agree to any kind of ceasefire.
The army chief, Gen Abdel Fattah al-Burhan, will insist that he represents the legitimate government. He will label Gen Mohamed Hamdan Dagalo, better known as "Hemedti", as a rebel.
But Hemedti, his de facto deputy until the clashes, will demand equal status for the two sides.
He will want a freeze-in-place, leaving his paramilitary Rapid Support Forces (RSF) fighters in control of much of Khartoum. Gen Burhan will require a return to the positions in the days before the clashes began.
Getting a compromise means hard bargaining with the generals.
The mediators need to gain their confidence and assure them that, if they make concessions now, that will not leave them exposed and vulnerable.
The downside is that the two warring parties will then demand the dominant role in political talks and an agenda that suits their interests.
One thing on which Burhan and Hemedti – and the Arab neighbours – agree is that they do not want a democratic government, which had been on the cards before the fighting began. The two military men had run the country since 2019 which ousted Bashir, refusing to hand power to civilians.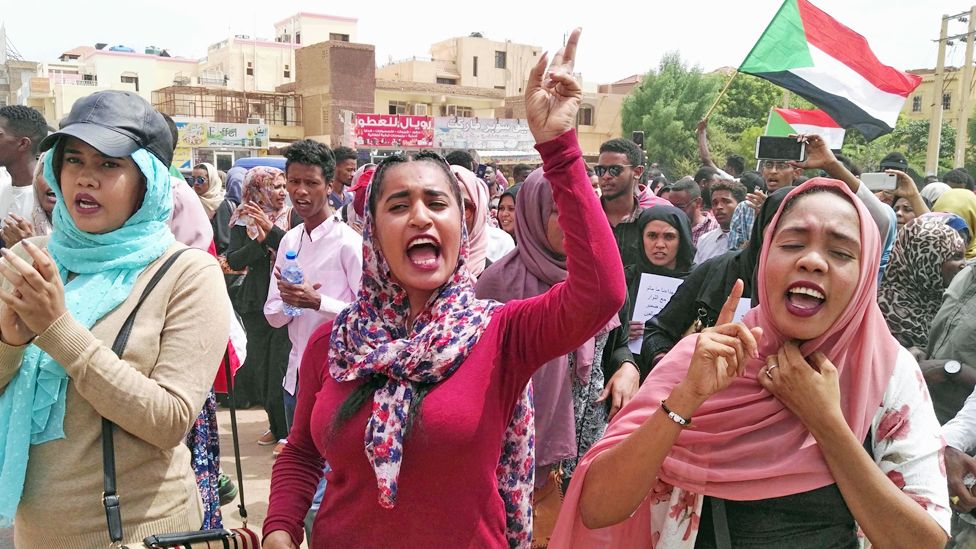 Another point of agreement will be amnesty for war crimes.
Negotiations dominated by the generals are likely to end in a peace agreement in which they share the spoils, setting back the prospects for democracy for many more years.
But if the fighting is not stopped soon, Sudan faces state collapse.
Abdalla Hamdok – prime minister of the joint military-civilian government ousted by the generals in 2021 – has said the country's new war threatened to be worse than Syria or Yemen.
He might have added, worse than Darfur.
Frontline reinforcements
There is a grim predictability about how Sudan's civil wars unfold.
In the opening days, the military commanders – army generals and rebel leaders – are driven by an angry resolve to land a knockout blow on the other side.
Combat is fierce as each side focuses its attacks, and it is easy to identify who is on which side – and who is staying neutral.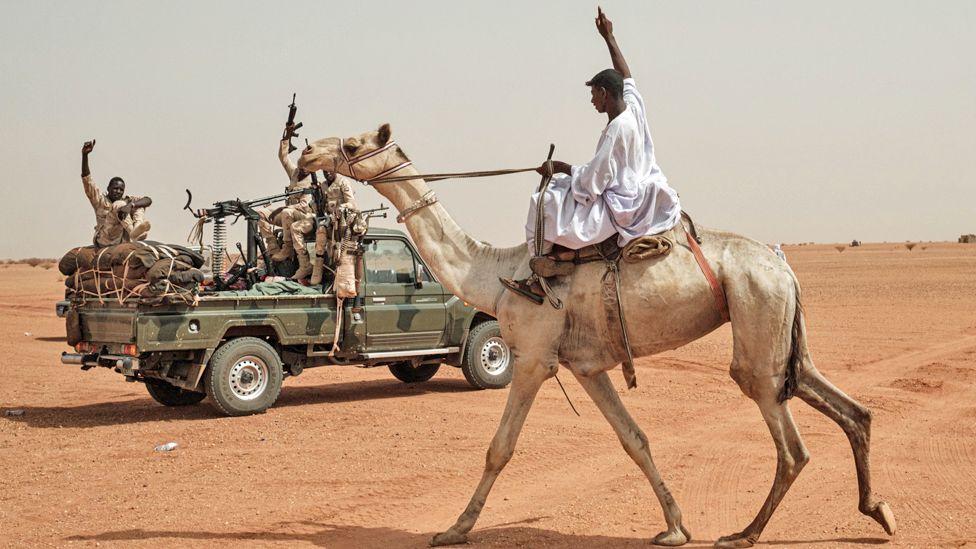 We saw this when the Sudanese civil war broke out in 1983, again in Darfur 20 years later, and in the conflicts in Abyei, Heglig and the Nuba Mountains close to the north-south border at the time when South Sudan separated in 2011.
The first clashes in South Sudan's own civil war in 2013 also looked like this.
On 15 April, when fighting erupted between the army and the RSF, each side vowed to destroy the other.
They concentrated their firepower on each other's strategic positions in the capital, regardless of the massive destruction inflicted on the city and its residents.
Past wars show that if the fighting is not quickly halted, it escalates.
Each side brings reinforcements to the frontline, bids to win over local armed groups that are not yet involved, and solicits help from friendly foreign backers.
We are in that phase now.
The regular conflict script tells us the adversaries will not be able to sustain their cohesion for long. They will run low on weapons, logistics and money, and cut deals to get more.
The fissures within each fighting coalition will begin to show. Other armed groups will join the fray.
Local communities will arm themselves for self-defence. Outsiders will become entangled.
All of this is already happening. It is most advanced in Darfur, Hemedti's homeland, which is in flames again.
Up to now, we have not seen civilians being systematically targeted because of their ethnic identity.
But that is a major risk, and as soon as fighters on one side commit mass atrocities, the antagonism will escalate.
The next stage would be conflict spreading across the country, igniting local disputes as it goes.
Armed groups will fragment and coalesce, fighting for control over the lucrative locations such as roads, airports, gold mines and aid distribution centres.
In Darfur, after the fierce battles and massacres of 2003-04, the region collapsed into anarchy.
The head of the joint African Union-United Nations mission called it "a war of all against all".
This was the lawless political marketplace in which Hemedti thrived, using cash and violence to build a power base.
There is an all-too-real scenario in which the whole of Sudan comes to resemble Darfur.
'Abandoned in the moment of need'
The US and Saudi mediators are high-level and even-handed. Unlike other Arab neighbours – Egypt backs Burhan and the United Arab Emirates has ties to Hemedti – Riyadh does not have a favourite.
The US is threatening sanctions. That is unlikely to deter the generals – Sudan has been under American sanctions since 1989, and military-owned businesses thrived nonetheless.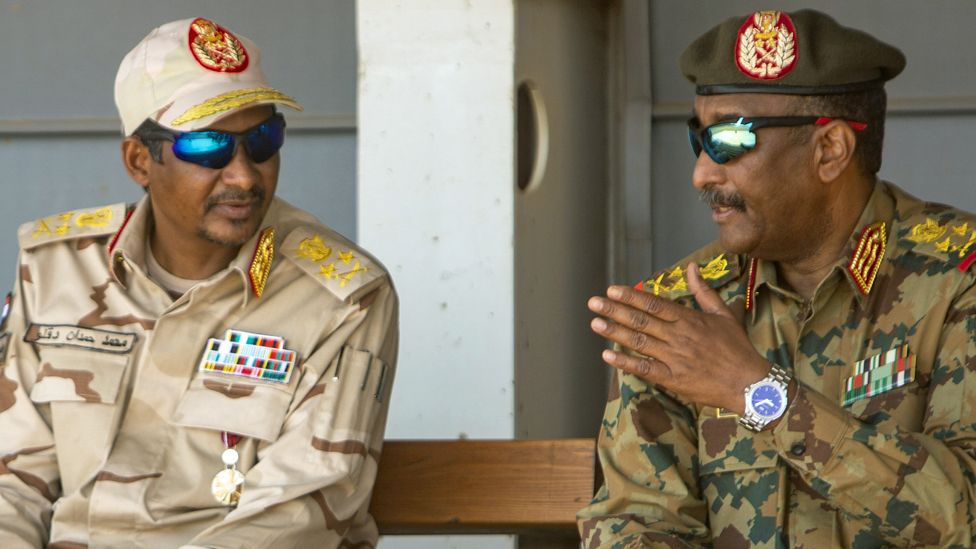 Effective pressure needs international consensus. Everyone – including China and Russia – agrees that the fighting is a disaster.
Protocol at the UN puts the responsibility on its African members to raise the issue at the Security Council. Up to now, they have not acted on this. The African Union convened its Peace and Security Council the day after the fighting to demand a ceasefire but has not been part of the US-Saudi mediation effort.
In the meantime, every passing day risks the war becoming intractable.
Silencing the guns today is a hard-enough task. It would be far harder if there were dozens of fissile armed groups claiming a seat at the table.
What is unprecedented about today's armed conflict is that the battleground is in Khartoum.
It is generating a humanitarian crisis quite different to the rural displacement and hunger that the country's aid workers have dealt with over the decades.
Civilians trapped in urban neighbourhoods may benefit from old-style food convoys, but they also need utilities – electricity, water, and telecoms. And they desperately need cash.
With the central bank burned and local commercial bank branches closed, some people rely on mobile phone banking services. Others are penniless.
With the UN and most foreign aid workers evacuated, local resistance committees have stepped into the vacuum, organising essential aid and safe passage for civilians to escape.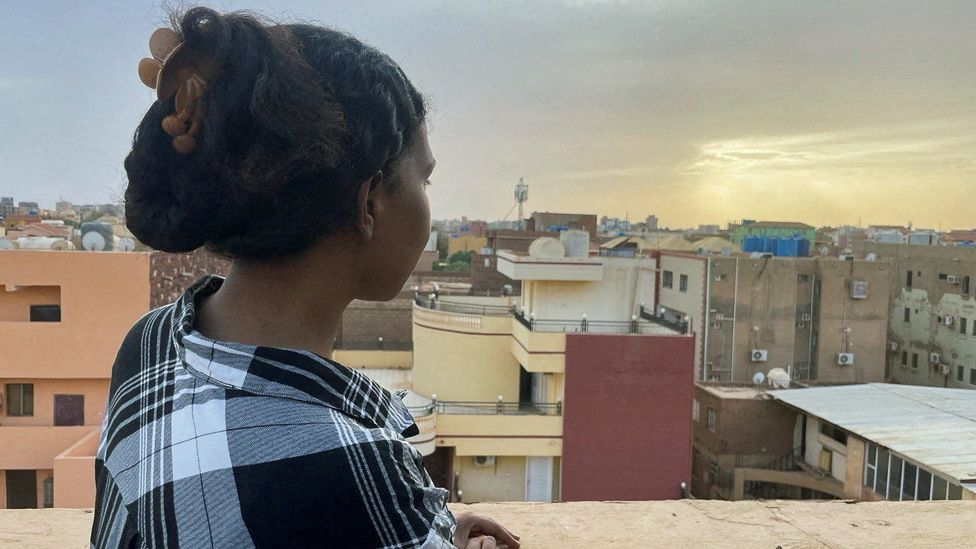 Many Sudanese feel that the international community abandoned them in their moment of need, and ask that such local, civilian efforts become the lynchpin of an aid effort.
There is a danger that hunger will become a weapon of war, and aid will be a resource manipulated by warlords.
Aid agencies will need to find ways to bypass them and directly help civilians.
There are no simple solutions to Sudan's escalating war. The situation may yet get much worse before it gets better.
And it is likely that whatever decisions are taken in the ceasefire talks – who is represented, on what terms, and with what agenda – will shape the country's future for years to come.
Alex de Waal is the executive director of the World Peace Foundation at the Fletcher School of Law and Diplomacy at Tufts University in the US