Politics
Chamisa Mocks Mwonzora over Zanu PF's unholy alliance
By ZimLive
The ConCourt application was seen as yet another guileful body swerve to deceive opponents by Mnangagwa.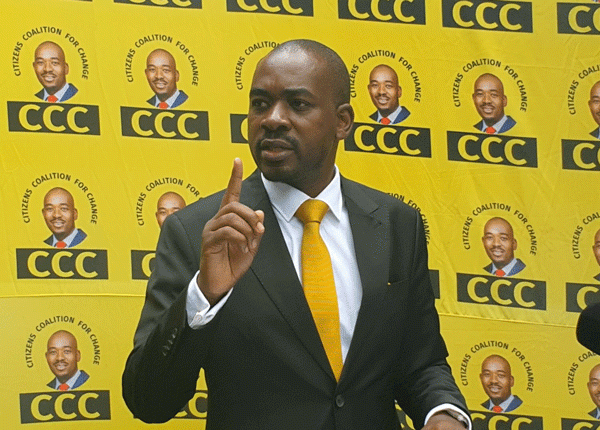 No hugs with crocodiles … Nelson Chamisa views the Concourt application dismissal as a Zanu PF snub on Mwonzora
HARARE – Citizens Coalition for Change (CCC) leader Nelson Chamisa Monday launched an indirect criticism on MDC-T leader Douglas Mwonzora for allegedly forging unholy alliances with cunning foe Zanu PF he said has never been sincere in loose pacts with rivals.
Chamisa was reacting to a Constitutional Court (ConCourt) dismissal of Mwonzora's application seeking the dumping of a ZEC 2023 boundaries delimitation report in what could have seen the postponement of elections due this year.
Through his application, Mwonzora was seen as a pawn in an elaborate Zanu PF strategy to postpone elections amid fears of imminent defeat by the opposition CCC, aided by well-orchestrated sabotage against Presidential candidate Emmerson Mnangagwa in what is commonly referred to as "bhora musango".
Likewise, Mwonzora, who was granted rights over the main opposition empire in what led to a party split and subsequent formation of CCC, is seen as uncomfortable with elections after his party has been clobbered in past by-elections.
Mwonzora mournfully dismissed the ConCourt judgement Monday describing it as political.
Chamisa tweeted a cryptic rebuke of his former ally for trusting the enemy.
"Never, never go to bed with Zpf (Zanu PF) It's dangerous.
"Maybe just go to dinner but then use a very long spoon. Otherwise, it will end in tears," wrote Chamisa.
The ConCourt application was seen as yet another guileful body swerve to deceive opposition rivals by Mnangagwa.
Meanwhile, MDC-T spokesperson Witness Dube has dismissed claims his party sought to throw spanners in the works of impending elections through the ConCourt application.
"For the record, we sought to have ZEC regularise their delimitation as it is way out of step with what is pertaining on the ground," Dube said.
"While we accept a ConCourt ruling as the supreme law of the land, we still strongly believe that this issue we have challenged is going to turn out to be an albatross on the neck of our elections.
"We are readying for the elections that are coming, not the past by-elections, and therefore set to create a new peace of triumphant history."
ZimLive.com