Sports
Ivan Toney banned: Brentford striker suspended for eight months over betting
By Online Sports Reporter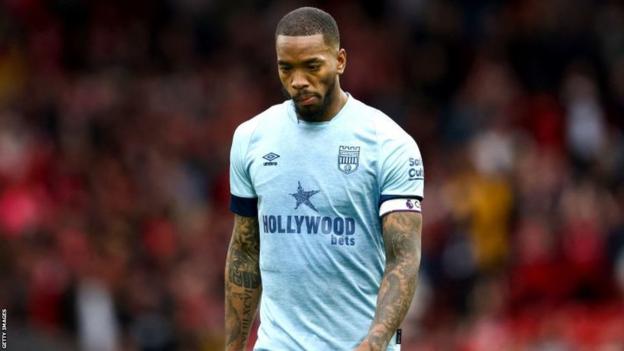 Brentford striker Ivan Toney has been banned from football for eight months after he accepted breaking Football Association betting rules.
Toney has also been charged £50,000 and warned about his future conduct for 232 breaches of the FA's betting rules.
His suspension starts immediately, but the 27-year-old can return to training with Brentford four months before it ends on 17 September.
He will not be allowed to play again until 17 January 2024.
Posting on his Instagram story, Toney said he was "naturally disappointed" at the verdict, and would make no further comment until the independent Regulatory Commission publishes its written reasons.
"I make no further comment at this point other than to thank my family and friends, Brentford FC, and our fans for their continued support, through what has been a very difficult time.
"I now focus on returning to play the game I love next season."
In a statement, the FA said: "His [Toney] sanctions were subsequently imposed by an independent Regulatory Commission following a personal hearing.
"The independent Regulatory Commission's written reasons for these sanctions will be published in due course, and the FA will wait to review them before commenting further."
The breaches Toney has been found guilty of took place between 25 February 2017 and 23 January 2021, during which time Toney represented Scunthorpe United, Wigan Athletic, Peterborough United and Brentford.
Toney has scored 20 goals in 33 Premier League appearances this season, helping Brentford into ninth place in the table.
He will miss Brentford's trip to Tottenham on Saturday and the final day of the season at home to league leaders Manchester City on 28 May.
Brentford says they note the FA's decision and are awaiting the publication of the written reasons before "considering our next steps".
Toney won his first England cap as a late substitute in the 2-0 Euro 2024 qualifying win over Ukraine in March, having received his first call-up to Gareth Southgate's squad last September.
England defender Kieran Trippier was banned for 10 weeks by the FA in December 2020 for giving out information for others to bet on his transfer from Tottenham to Atletico Madrid.
In 2017, Joey Barton – then a Burnley player – was banned for 18 months, reduced to 13 on appeal, after admitting to placing 1,260 football-related bets over a 10-year period.
Analysis
Dan Roan, BBC sports editor
This is a major blow for Toney, whose career for club and country is now uncertain, and for Brentford, who are now denied the services of one of the country's best strikers until well into next season. Any plans to sell him this summer may also have been jeopardized.
Any assessment of the punishment he has received must wait until the FA reveals more details about the reasons for its decision, the precise nature of Toney's gambling, and why he acted the way he did for so long and so many times.
Some will say the FA had little choice but to hand out such a sanction, and point out that Toney should have known the rules and stuck to them.
But others will point to football's close relationship with the gambling industry, especially in the form of advertising and shirt sponsorship, and ask if the sport's authorities should shoulder some responsibility too.
After all, Toney's club Brentford is among many clubs sponsored by a betting company and he played for several clubs in the EFL – a league also supported by a betting company. He is far from the first player to fall foul of the rules. Kieran Trippier has shown it is possible to bounce back after serving such a suspension, but there will be calls for Toney to be supported, as well as punished.
The FA will face questions over the time this process has taken and the fact Toney will serve so much of his suspension during the summer.
Many fear the influence of the links between football and the gambling industry on fans too, with concerns it normalizes betting, especially among young supporters.
The Premier League recently announced a voluntary ban on shirt sponsorship by betting companies but expects renewed scrutiny on the game's ties to gambling and the need for more excellent education of players in the wake of this latest controversy – BBC SPORTS